It's 'An Earls of Leicester Christmas' REVISITED 2018
This show originally aired following their win for Entertainer of the Year in 2017 and they are just as entertaining as radio hosts... You'll love their stories! Drop us a note at gogoshowprep@gmail.com with your station and show name and we'll send you a link to the show!
DOWNLOAD JERRY DOUGLAS & SHAWN CAMP PROMO FOR YOUR SHOW HERE!
:30 promo with room at the end, so that you can add your own tag such as..."brought to you by" or "listen for it here on Dec.___" Features music from Jerry Douglas in the background.
CLICK THE ARROW TO LISTEN OR JUST CLICK FREE TO DOWNLOAD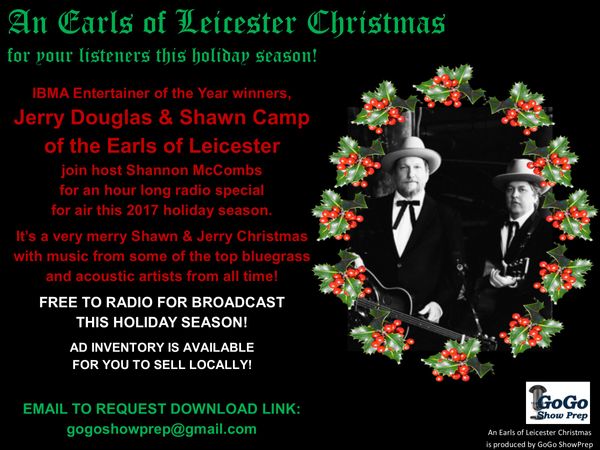 LISTEN HERE!
'AN EARLS OF LEICESTER CHRISTMAS' WITH JERRY DOUGLAS AND SHAWN CAMP
...SEGMENT 4
MERLEFEST BACKSTAGE - FULL PRESS CONFERENCES 
Downloadable Audio For Your Radio Shows and Podcasts!